Annapurna Sanctuary ( 16 Days / 15 Nights )
Best Season: Mid-Sep to Nov and March to May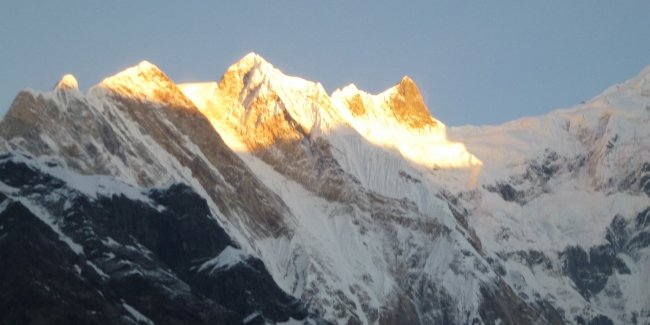 "Annapurna Deothali" as the place is known to the Nepalese is considered sacred, though there is no documentation to show how long this state of affairs has prevailed. It is, however, certain that it was so, long before the first trekkers appeared. The Annapurna Sanctuary forms a natural amphitheater, ringed by Annapurna South 7219 m., Annapurna I 8091 m., Varahashikhar 7847 m., Gangapurna 7485 m., Machhapuchhare or "Fish Tail" as it is commonly known at 6993 m and Hiunchuli 6441 m.
The Sanctuary falls within the area managed by the Annapurna Conservation Area Project and is an exercise in environmental and cultural protection accommodating the needs of both the visitors and the local inhabitants and balancing those out with a most commendable conservation effort.
There is a good mix of high mountains and Himalayan culture on this trek. The Annapurna Himal lies between the Kali Gandaki and Marsyangdi river valley, forming a solid, mountain bastion. In its span of 40 miles, it encompasses some twelve peaks higher than 7000 m. and numerous others over 6000 m. And, as rhododendron forests give way to bamboo groves which in turn vanish into the high, desert landscapes, people of Aryan stock give way to those of Mongoloid stock and the dominant religion changes from Hinduism in the lower reaches to Buddhism higher up.
Your trek into this spectacular region begins with a short flight to the western city of Pokhara from where you meet your sherpa crew and drive to Nayapul. Then passing through the villagers of Tikhedhunga, Ulleri, Ghorapani, Tadapani, Kimrong, Chomrong, Khuldi, Bamboo Lodge, Doban and Hinko Caves you emerge into the Santuary itself and are simply struck dumb by the serenity of the whole place. Retrace your steps partially and then descend through the Gurung villages Ghandruk, Landrung and Dhampus to Phedi from where you drive back to Pokhara and then fly back to Kathmandu.
LEVEL: Moderate
Generally good for families with older children and for seniors who are fit in addition to most adults.
Day 01 Arrival in Kathamandu
Depending on the arrival time of your flight sightseeing in Kathmandu.
Day 02 Final preparations day
Last minute preparations for your trek or if you are sufficiently prepared sightseeing of Patan Durbar Square, Swoyambhunath and Bodhnath.
Day 03 Flight from Kathmandu to Pokhara & trek start from Tirkhedhunga
Fly to Pokhara, drive to Nayapul and trek to Tirkhedhunga (1577 m.).
Day 04 Trek to Ghorepani
Trek to Ghorepani (1855 m).
Day 05 Hike to Poon Hill
Early morning hike to Poon Hill and trek to Tadapani (2610 m.).
Day 06 Trek to Chhomrong
Trek to Chhomrong (2040 m.)
Day 07 Trek to Bamboo Lodge
Trek to Bamboo Lodge (2340 m.).
Day 08 Trek to Himalayan Hotel
Trek to Himalayan Hotel (2900 m.)
Day 09 Machhapuchare Base Camp (3720 m.).
Day 10 Visit Annapurna Base Camp (4095 m.) and trek back to Deorali.
Day 11 Trek to Doban (2600 m.)
Day 13 Trek to Potana (1900 m.)
Day 14 Trek to Phedi via Dhampus and drive back to Pokhara.
Day 15 Fly to Kathmandu. Remainder of the day at leisure.
Day 16 Last day of your trip in Nepal & fly back to home.